Top Quality Equipment for Streamlined Operations
Municipal projects
Commercial work
Right of way clearing
Utility line clearance
Storm work
Hazardous tree removals
Slopes and embankment maintenance
and more…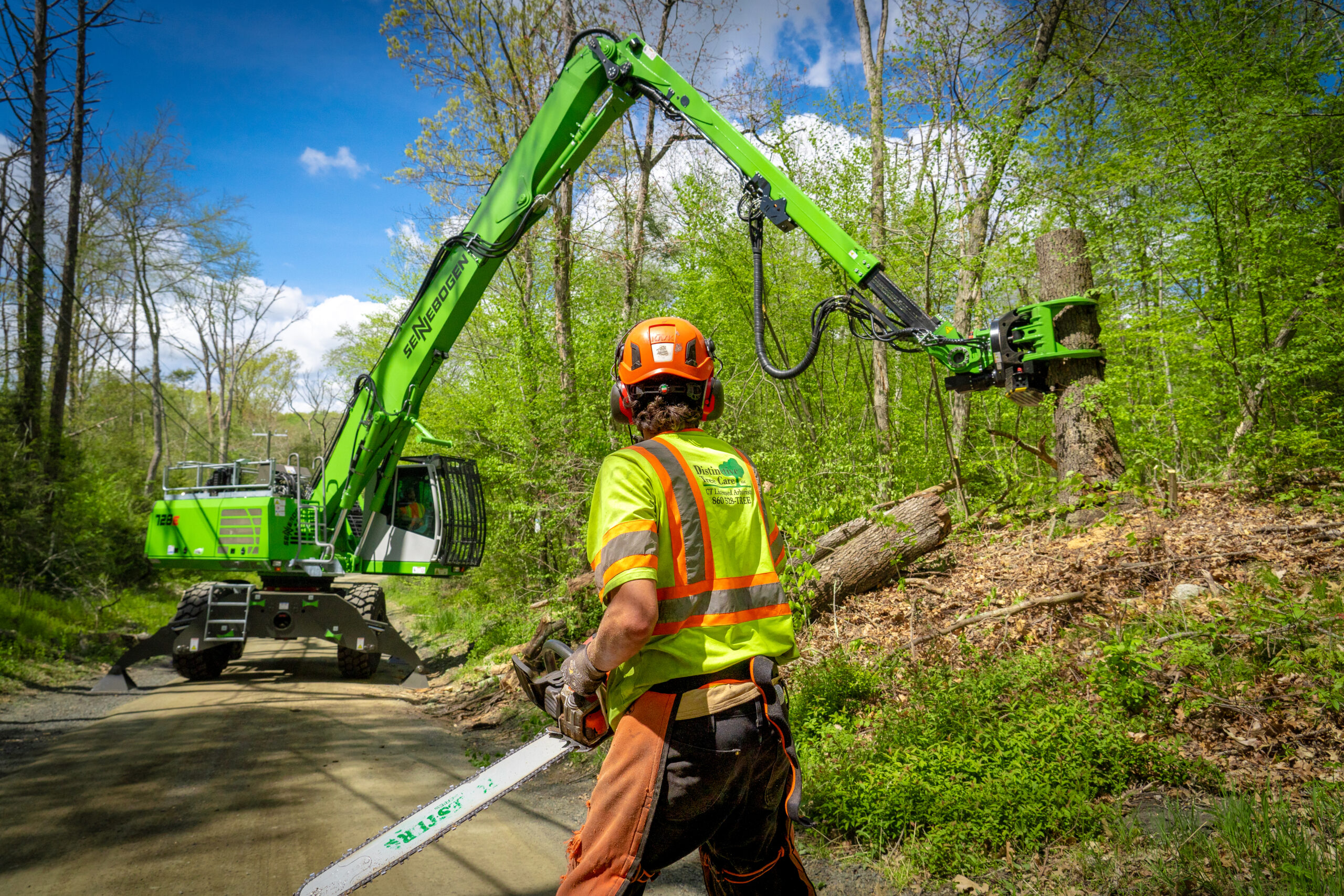 Need to remove massive amounts of trees and brush near roadsides, buildings, and utility lines? Then the Sennebogen 718 material handler may be the right tool for the job. This state of the art piece of equipment can effectively cut, dismantle and stockpile trees for removal efficiently and safely. Once it cuts and stacks tree parts, they can then be handled by a chipping crew or processed with its complimenting Albach chipper.
With its origin from Germany, this machine is one of only several in the country which can perform these tasks. Applications include:
Roadside tree removal
Roadside line of sight
Provide clearances from buildings and other obstacles
Guardrail and sound barrier tree cutting
Steep bank tree removal along bridges and highways
Tree removal along environmentally sensitive (wetland) edges
SAFELY REMOVE TREES FASTER WITH THE SENNEBOGEN 718
With this equipment, a trained operator can safely work by themselves, producing 10x what an average tree crew could produce. While the Sennebogen can't tackle every tree, In the right setting, nothing can touch this machine's value for production, safety, and efficiency.
The Sennebogen 718 can cut an hold close to 1.5 tons of tree branches or trunks at one cut, and can efficiently dismantle, cut and stack entire trees in minutes.
Operator is in a fully climate controlled protected cab and can work in all conditions night or day.
Sennebogen 718- The grapple saw and boom can reach a height up to 44′.
Sennebogen 728-The grapple saw and boom can reach a height up to 68′.
The Sennebogen can safely work on or off the road and utilizes four on-board stabilizers for good footing.
It's equipped with 71″ wide grapple and 28″ wide chain saw.
It utilizes Panolin biodegradable hydraulic oil, which is suitable for use in environmentally sensitive areas.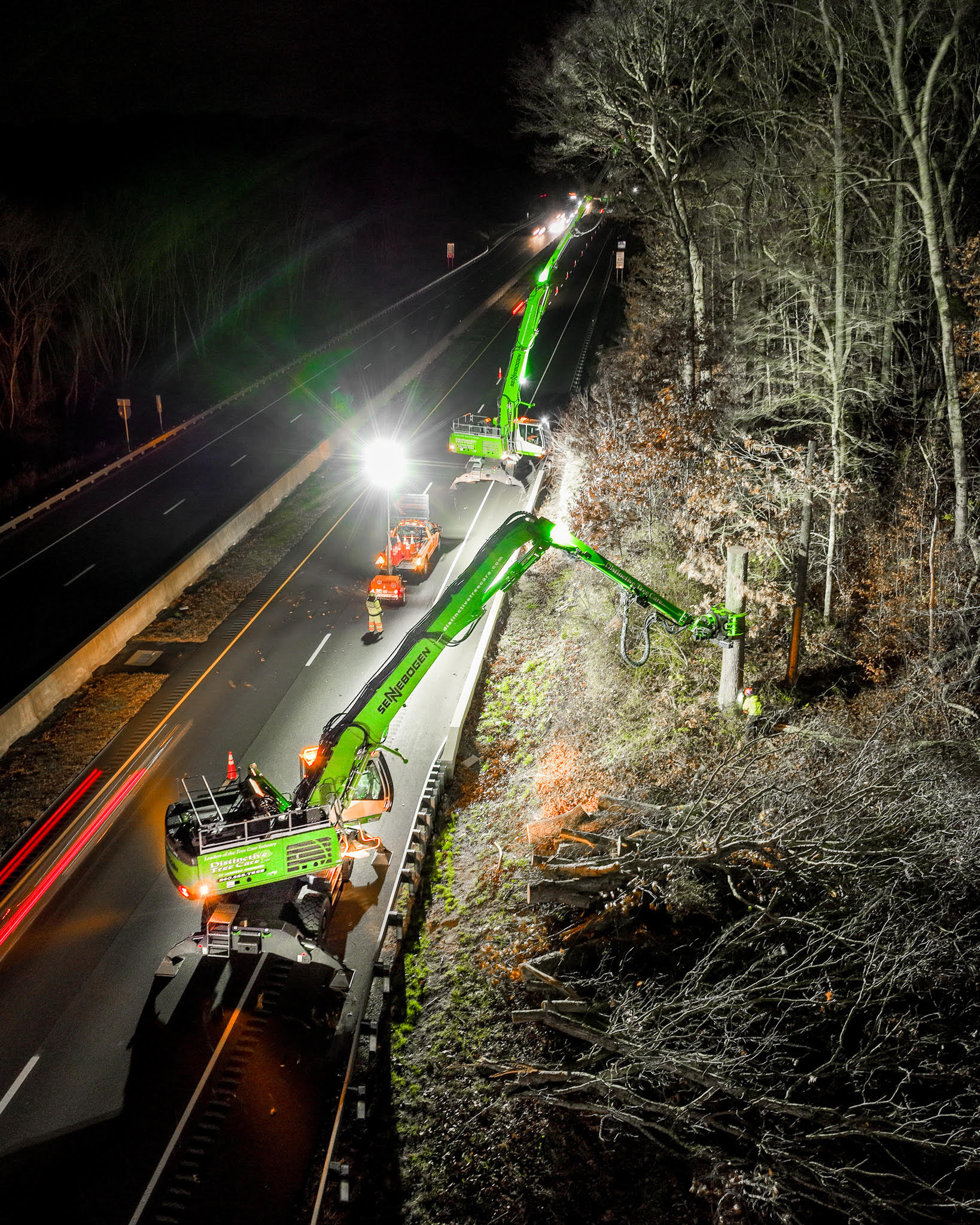 ALBACH DIAMANTE 2000 WOODCHIPPER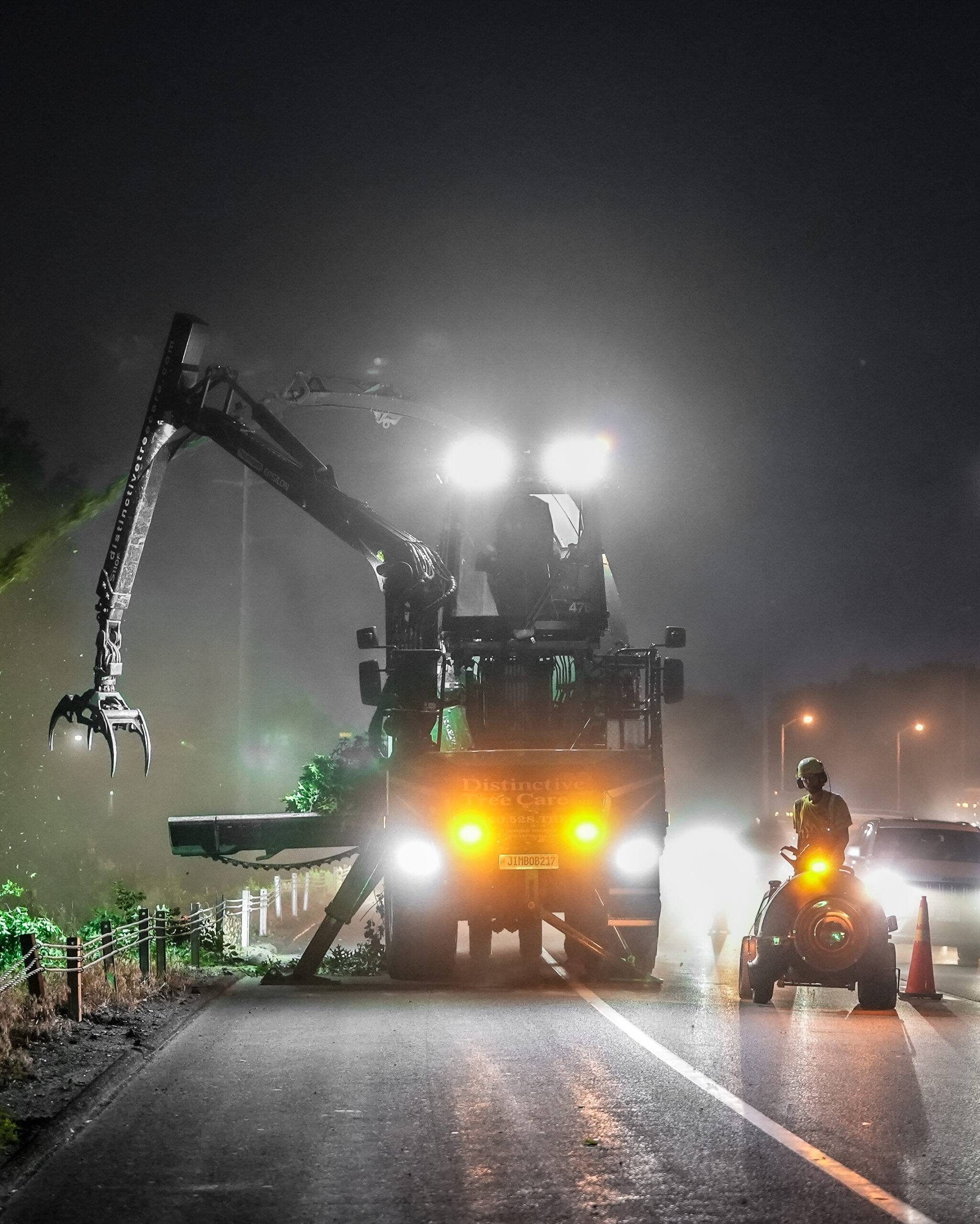 The Albach high-capacity chipper is a fantastic compliment to the high production Sennebogen 718. The Albach machine is also from Germany, and in the top of its class. Able to drive to job sites and set up in minutes, this 700 horsepower machine can efficiently process and chip stacks of brush and logs.
QUICKLY CHIP LARGE TREES AND HEAVY BRUSH WITH THE ALBACH DIAMANTE 2000
With a production rate of 400-600 cubic yards an hour, there is not another chipper in this world on tires with this type of production.
A single operator in a safe, protected, climate controlled cab can:
Feed brush and logs into the machine to chip the debris into a dump or tractor trailer truck very accurately.
Blow the wood chips 100′ away with a 2 stage chip blower system, and is relatively quiet.
Handle and chip debris up to 33′ away utilizing its own loader and handle up to 43″ diameter logs and piles of brush with ease.
Distinctive Tree Care provides CT commercial tree care services including urban land clearing throughout Connecticut and Western Massachusetts.